PSHRE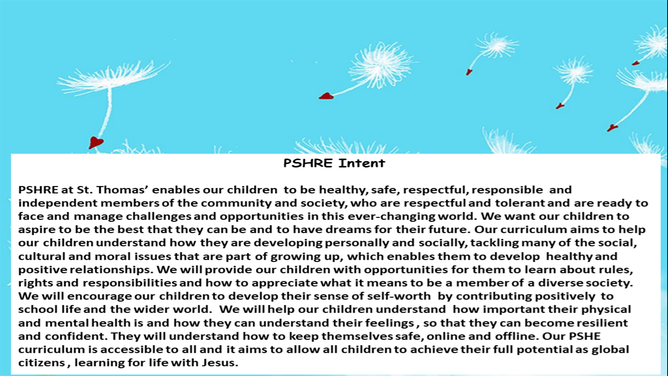 PSHRE
Relationships and Health Education (RHE)
From September 2020, it is a statutory requirement that all schools in England are teaching Relationship and Health Education as a fundamental part of the curriculum. As part of implementing the RHE curriculum, schools must consult with stakeholders to ensure there is a general consensus on our approaches to policy and the curriculum content. Please could parents/carers read through the following documents:
RSHE Policy
PSHRE Pathways and progression grids.
Both of these documents can be found on the curriculum page under PSHRE on the school website.
St Thomas' CE Primary (secure-primarysite.net)
We have also provided the following leaflet below to support you with your understanding for the requirements of Relationship and Health Education.
https://www.learningvillage.org.uk/wp-content/uploads/2020/09/RSE-DfE-Information-for-Parents-Leaflet.pdf
Please email any questions or comments you may have about our PSHRE curriculum to headteacher@st-thomas-kidsgrove.staffs.sch.uk
Your comments and questions will be reviewed termly as part of our ongoing consultation.
PSHRE Learning Pathway (Big Questions)