ELSA

ELSA Support at St Thomas'
Here at St Thomas' we believe that your child's emotional development is as important as their academic learning.
We understand that children may need a little extra support with their emotions at times, just as they may need extra help with Maths or English.
What is an ELSA?
An ELSA (Emotional Literacy Support Assistant) is a specially trained member of staff who supports children's emotional wellbeing.
ELSAs are trained by and have on-going support from an educational psychologist.
They plan a bespoke programme of support and deliver weekly 1:1 sessions of between 30 –45 minutes, usually lasting 6-10 weeks.
ELSAs are not there to fix children's problems but rather they aim to establish a warm, respectful relationship with a pupil and to provide a reflective space where children are able to share honestly their thoughts and feelings.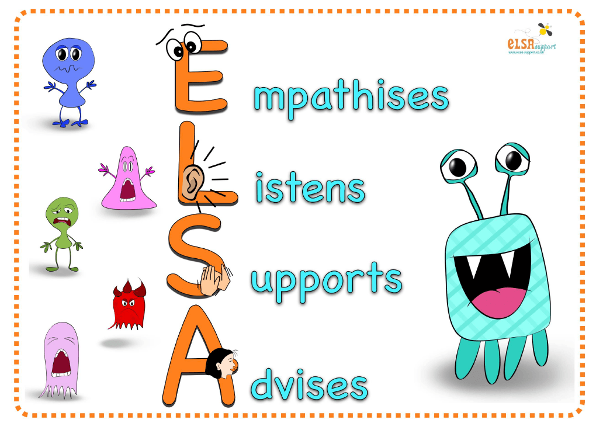 ELSAs can support children with:
Emotions
Friendship skills (often done as group ELSA sessions)
Social Skills
Self-esteem
Coping with anger
Loss and Bereavement
Changes in their life (eg: moving house/a new sibling/ parental separation)
Mrs Thorne is the ELSA in our school and works with children referred from the class teacher and SENCo.
If you feel your child would benefit from this type of support, please speak to your child's teacher in the first instance.
If your child is accessing ELSA support and you would like to discuss this further, please contact Mrs Thorne n.thorne@stthomascofeacademy.org